How auto scanning destroys your trading in MCX, NSE, FOREX?
accurate buy sell signal software, accurate buy sell signal software in India, accurate buy sell signals in commodity, base rate currency pairs, commodity buy sell signal software, day trading software, day trading software for mcx, day trading software for nse, Intra-Day trading software, nifty buy sell signals, Perfect Buy Sell Signal Software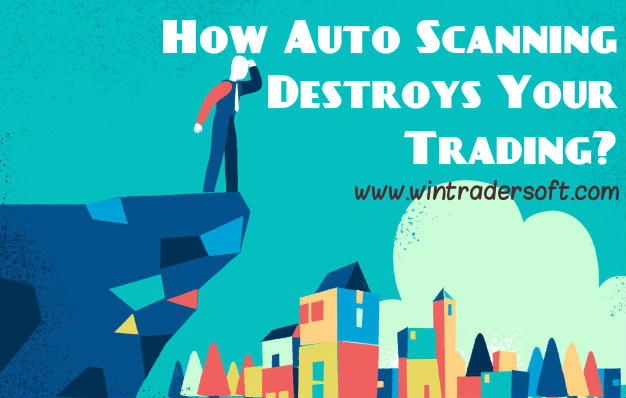 Why are traders demanding for scanning facilities in Technical Analysis Software, whether this facility is good or bad for trading success?
Making money from trading is not an easy part or get quick rich scheme. Making profit from trading needs proper planning, financial management and proper tool for technical analysis particularly for day trading.
But the majority of people who are trading or enter into trading professions with the prejudiced mind of making money from trading is an easy part. Don't you ever think about that, if making consistent profit from trading is easy, then everyone will be rich in no time? The truth is only 5 to 10% of traders are making consistent profit from trading because of that they are called Professional traders. So what are the specialties in Professional traders that we don't have to make success in trading? Suppose consider two traders, and two traders have the same technical analysis software to support their trade decisions like entry and exit points.  Among those two, one has ended up in total loss and another in continuous profit, and then what will be the secret of second trader's success. If we evaluate both of them, then we will find out that the secret lies in his financial management and discipline.
Now we can look what is the key point in proper financial management and discipline in trade success.  The key things to remember or taking in to account for the trade success under proper financial management and discipline are;
Selection of segment you are trading like MCX, NSE, FOREX or all
Investment allocated for each segment
Scrips / Commodities / Currency Pairs selected for trading and the fund allocation to each
Describing all these need lots of time and things to convince, but our topic is whether scanning facility is good or bad for trade success, we are looking into this are. Now check the third point in above, Selection of scrips/commodities /currency pairs for trading. What does this mean? Let us come into details.
The second trader who is making a regular profit from trading has a portfolio for trading. Portfolio means a list of Scrips / Commodities /  Currency pairs and the fund allocated to each, he will strictly follow with his portfolio, this makes proper financial management. But the loser would not have a portfolio, he traded with his own decisions, whenever new buy or sell signal comes he enters into a trade without having a portfolio list. Traders searching for scanning facility are like the looser side since they don't have a proper planning, they will not have a list of a portfolio, this makes them trade without proper financial management and ended up in a total loss.
In our trading system, we designed software that makes traders become professional traders and need to make consistent profit from trading by protecting his fund. Considering all these we had withdrawn the scanning facility from our trading software because many traders use these features without proper planning and ended up in the loss, this will give the wrong reputation. We need people like who are passionate and disciplined, and willing to follow our trading instructions in 100%, and then he will become a professional trader with regular profit in short time.
I will describe in MCX, how our in house traders are doing trade with WinTrader Buy Sell signal software and make profit from trading.
Our traders focusing only up to 5 commodities as their portfolio list, trading in more than 5 commodities not allowed for our traders and we allocated fund according to that. Our main portfolio list in MCX are;
Crude Oil
Copper
Natural Gas
Nickel
Zinc
We will have proper plan before to start trade in each day, like the number of lots in each commodity, predetermined profits if necessary for each and open these FIVE COMMODITIES in our WinTrader Trading systems, so whenever new signal generates, the software will give alert message with sound, then the trader check for the filtering signals for confirmation, if all are ok he will enter trade according to the plan, if the filtering system not confirms, then he will wait for the next signal from any of the above five commodities. This is the way our traders are trading for the past 8 years and making a consistent profit every month with less risk.
So the final verdict is Traders who are looking for auto scanning facility is like aggressive traders, those don't have any discipline, and we all know he will end up in total loss 100%. Rather than looking for auto scanning facility, prepare a good portfolio that you confident or our support team will guide you, and open these scrips/commodities / currency pairs in WinTrader trading system, and do trading as per the instructions.
If you need any further clarification about what we discussed above, feel free to contact us.
You might be interested in following blogs from our experts: