The main reasons, why most of new faces in day trading are failed?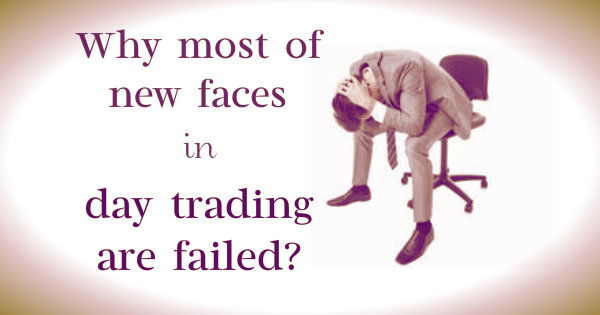 Did you ever think why we are learning road rules before drive a car.?Yes we need to avoid the crashes. If you are in the wrong side definitely there is a chance to crush. Each trader is drivers they are driving their future through the trade, so they should follow some certain rules to go properly. Every trader was a loss trader at their earlier. Means the fault in trading usually happen in the starting time. Why it happens…? Because we have to fall first then we learn how to stand. But there is common reason for their failure, that is, every traders entering in to trade without sufficient knowledge about trade. Sometimes they might lucky and be successful for a while. In the life of every human the luck factor will come ones. But as a trader if you wait for the luck again definitely you will be in great crush.
Before discussing the fault of trader I would like to share why most of the persons love to do trade even if it is risk. Because they thought that it's an easy way to become rich and giving total freedom for us there is no boss and no time schedule. Above all there is no need specific academic qualification. Full freedom to work.  This is exactly right. Trading offers a wide range off opportunity for you. But these factors make the traders lassie and undisciplined. Let see how.
Don't think trading make you rich within few days. There is no one in the history of trade who won in a day because trading is the way to lose money than make money. So every trader should have an ability to act by realize this truth. To become rich is a need but it is symptom of greediness also. This will forced you to gambling without looking the further effects. Such traders have a common character they got fear easily. This will pull back you. So the big fault is the approach towards the trade. If you think this is an easy way to make you rich then you start to trade against the rule, means you will invest everything in to the finical market. This is enough to vanish you within second. So never keep such an approach in your mind before you trade. Instead of that keep strategies and try to start from very small amount. Only by this you can catch up the peak of wealth. To get such a mind you have to approach the trading as your passion because we are ready to go how far to get our wish.
For a trader he is fully free in his kingdom there is no boss and nobody above him to rule him. So a trader is like a kite float in the air without a controller. He can move any time to anywhere. Over freedom will damage you because we start to do something as per our wish. You can fix your return and working hour's etc. So there is a chance to become undisciplined trader. So trader should responsible for his self first. Actually this is the freedom in trading. Those who take this freedom to do their wish it could have been fail him.
Every beginner traders have a thought that there is no need of any knowledge in trading. But this statement is wrong. No one can enter in to the world of trade without sufficient knowledge. This is not an academic qualification this is the knowledge to find where should enter or exit and how to exist in the world of trade without losing your money. This knowledge includes everything for a trader. He should learn how to make a barrier for his emotions. Being a trader this is the first lesson that you have to learn. A beginner trader is always a student and he still studying. This kind of mind will get out the beginner traders from their fault.
The new faces in trading never try to look at this point. Actually the above discussed points are the advantages of trading that is misused by the new comers because of the lack of their experience. But they can avoid these by giving attention to the seniors. Because if some told me that if you go through that way you will fell down. A wise person will admit it other will go ahead it will affect his carrier. So make attention to the experts.
In our trading life we have so many things to experience to step forward. In the earlier traders will mix up their daily life with their trading. This is very big task. Both are equally valuable for a trader. In our daily life we have so many stress and feelings above all it dull with commitment with others. But if you come to trading life you can realize that these emotions are meaningless. So you should deal each trade carefully by using your logic. Have to find good time for trading because your fresh hours can make your trading awesome.
Stock market is a collection of large number of shares. The fresher never thinks that which among them are suitable for him. Usually the fresher's have a tendency to buy the stock in accordance with the prize. A prize is prime factor apart from that there is a big reason for your loss. Among the thousands of shares the traders buy the share of a company with least cost. The rate of share depends on the reputation of a company. So a week reputed company never gives the return as you wish. So before you select the stock first buy a good stock with worth prize.
 If you fail to select a good stock definitely you will loss. At this condition don't throw more money over your loss. This will never help you to cover your loss. Instead of that you become a big loser in trading. So think wisely. Shift from the stock in which you make loss is better than put more money over that stock. Always keep one thing in your mind that trading result is not for a while it's for long time. So have to patient and move on step by step.
Some good reads